Originally posted on fool.
It's all in the data. Learn how to evolve your business with analytics and strengthen your Instagram activity going through the six steps in this guide.
Your early beginnings on Instagram were probably frustrating. This is the case for most activity on social media for small businesses. Did someone tell you that if you post great content, people will come?
Of course they were somewhat right, but you have probably realized that it is not nearly enough. Instagram, just like other social media networks, is a communication channel with its own codes and symbols that you need to master.
When you're learning to sing, it is not enough just to chant the words to a song; you must listen to the feedback from your audience if you want to improve. Analytics is your feedback when performing on Instagram. Now, listen!
Overview: What are Instagram analytics?
The first level of analytics you will encounter on Instagram is the user-level data everyone has access to: likes on your posts, followers of your profile, and number of profiles you follow.
But there is a more advanced level of social media metrics that becomes available to those with a business account. Upgrading to a business account is free, quick, and easy, and when it is activated, you can immediately access Instagram Insights.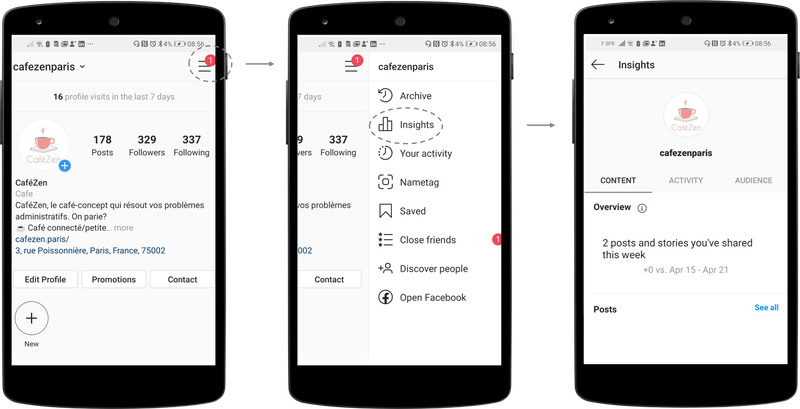 Instagram Insights provides access to metrics organized into three social media analytics dimensions: your content, your activity, and your audience.
You can learn more about this from the Facebook Blueprint lessons, which are freely available. However, the company doesn't tell you which metrics are the most important ones, so let's explore them below.
6 important Instagram metrics to track for your small business
In the Content dimension of Instagram Insights, you will find data about your posts and your stories. In the Activity dimension, the metrics covered are your overall reach, impressions, and engagement.
In the Audience dimension, you will find data on the evolution of your number of followers, as well as their characteristics in terms of geographic and demographic information and the time of day and week they are active on Instagram.
Let's take a look at the essential metrics for your social media strategy. Most of them are directly available from Instagram Insights, but a couple of them need some more analysis.
1. Follower growth
The ultimate metric for measuring Instagram profile health is of course organic follower growth. The follower stats are directly available in Insights under the Audience tab.
This metric indicates how many new Instagram followers you have over a given period of time. If you are actively in the process of gaining followers by following people you hope will follow you back, this metric is more an indicator of the success of your growth strategy.
Whichever of the two it is, the growth metric for followers belongs in your Instagram dashboard.
2. Posting frequency
This metric is so obvious that most people don't even think of it: The posting frequency is one of the most important metrics for any social media activity. It is calculated as the number of posts per day or week.
It is one of the most difficult things to keep on track, as social media is so work intensive. One of the best ways to keep the pace is to use scheduling for Instagram posts, so that part of the work required is automated.
3. Engagement rate
The engagement rate tells you how well your publications were received by your audience. Engagement is calculated as interactions in the form of primarily likes and comments, divided by the number of impressions.
4. Reach
Reach is defined as the number of unique persons a post is seen by. The reach of a post is a result of the Instagram algorithm, which uses your followers as a test bed to gauge engagement, and pushes it further out to users on the basis of it's perceived quality.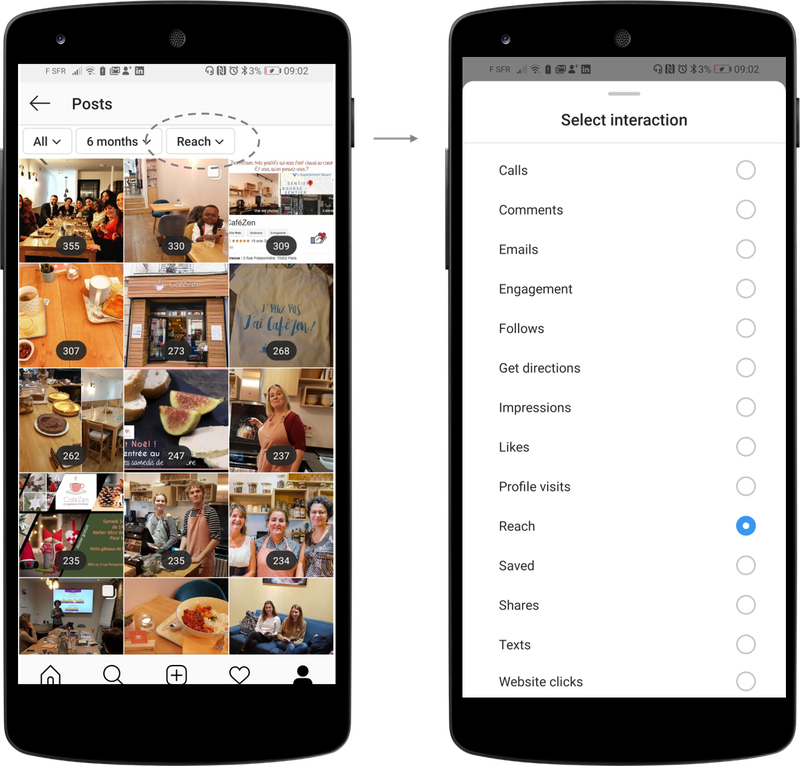 The higher the engagement rate, the higher the reach, and hence the greater outcome of your social media activity.
5. Story views
Stories on Instagram are short, animated, and interactive ephemeral publications that appear outside of the main feed for 24 hours.
The available metrics for a Story are different from those of other publications and provide insight into the user behavior (they include: taps forward, taps back, exit from stories, and swipes away).
But in reality, the most important metric for a Story is simply its number of views. The views are directly visible in the Content section of Instagram Insights.
6. Campaign impressions
If your strategy incorporates social media campaigns, then you will evaluate and optimize a campaign's efficiency on a number of performance metrics, the most important one being the number of impressions the campaign generated.
Once you start advertising on Instagram, you will gain access to an entirely new set of metrics via the Facebook advertising platform.
How to use Instagram analytics to strengthen your social media strategy
Listening to the echo of your Instagram publications through the traces they leave in the data is a great opportunity for you to learn how to perform better. In the following steps, we will guide you through all the different ways you can learn and improve your activity on Instagram by using analytics.
Step 1: Understand your audience
First stop, the Instagram audience insights. Scroll past your Follower growth to see information about the people who follow your account. You can easily get carried away with getting more followers while forgetting that following is not the end goal.
Check through the insights to see whether the characteristics of your audience correspond with your target market. If that is not the case, you might consider revising your approach to generating followers, or even your content strategy.
Perhaps it will also help you understand what types of accounts you should unfollow.
Step 2: Improve your storytelling
Instagram Stories are one of the most dynamic areas for marketing your product or service. If you aren't currently using this feature, then the first thing you need to do is to plan weekly stories.
Consider what your audience likes and how your brand is positioned, and then start building stories for your Instagram profile. Once you have published a few, you can start analyzing the metrics to look at what worked best.
The number of views will indicate whether you hit the right time and the right look, whereas the number of swipes away will tell you whether the viewers actually liked the story.
Once you feel confident, you can increase the frequency of your stories and integrate them into your social media calendar. A story a day keeps the profile alive.
Step 3: Optimize your hashtag tactics
Hashtags are one of the easiest ways to be seen by users outside of your follower audience and potentially generate new followers. But there isn't much information about hashtags in Instagram Insights.
You can look at all your posts in the Content view, sort them by follows, and then go into each post and identify which hashtags seemed to have contributed to the success of the post. But followers shouldn't be your only goal.
Try sorting with reach and impressions, engagement, or website clicks to see whether there are hashtags on the best-performing posts that you should perhaps use more often. This is a tedious and time-consuming process and one of the places where a social media management tool can bring value.
If you are looking for new hashtags you haven't used before, you need to configure a tool for social listening, which will allow you to learn from other accounts in an automated way. It will help you identify hashtags you can benefit from using in the future.
Step 4: Synchronize your posting times
Your audience insights will show you what time your followers are active on Instagram. If you post at those times, you are more likely to generate engagement quickly and thereby optimize the reach of your publications.
Check your social media content calendar to compare timings and adjust if necessary, so as to synchronize posting with audience availability.
Step 5: Improve engagement rates
Do more of what worked. In order to improve overall engagement rates, sort through your posts in the Content tab by engagement, and try to find a pattern in the theme, the images, the tone, or the caption for the best performing posts.
Improving your Instagram engagement rate will allow you to boost both reach and following. Feed your learnings back into your social media strategy.
Step 6: Increase your posting frequency
Perhaps one of the most straightforward steps to improving your Instagram performance is to simply post more. Specifically, post more of what seemed to have worked the best. In order to increase your posting frequency, you probably need help from technology. Automation is your best friend for this.
Data is the key to your success on Instagram
As just an ordinary Instagrammer, you were probably happy with the few metrics you had available. As a business, you need data to optimize your growth, your reach, and your engagement rates.
And as your social media activity becomes more important, the sophistication of your analytics needs accrues as well. When you have come to this point, you can understand the data and use the user feedback provided through analytics to build, grow, and find success in your business activity on Instagram.
Source: fool