The Best Free Photo Editors Out There
These free photo editors are the best of the best, and will get you just as good results as the expensive Adobe Photoshop.
The free photo editors below have tons of features and tools that you let you change or enhance your photos in just about any way you can imagine. You can also customize the interface of many of the programs so you can get the perfect working environment for you.
This list includes free photo editors that you have probably heard of as well as some hidden gems that for sure are worth checking out.
If you're looking for more options for free photo editors, check out this list of free online photo editors and even free photo editing apps. These free photo resizers may be an option as well if you're looking for something a little simpler to work with.
1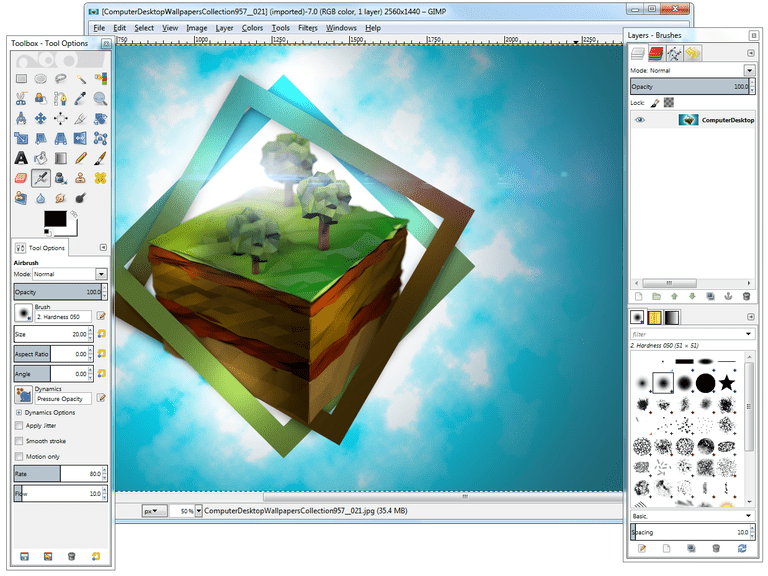 GIMP is likely the most popular free photo editor program. It's full of professional features and provides a very friendly and flexible interface.
The toolbox, layers, and brushes panes of GIMP are separated from the main canvas so you can truly adjust how you want to work without losing any of the features you need access to.
Various input devices are supported, add-ons can be installed to extend GIMP's functionality, and file formats like TIFF, PSD, PNG, JPEG, and GIF are supported.
GIMP works with Windows, Linux, and Mac operating systems. More 
2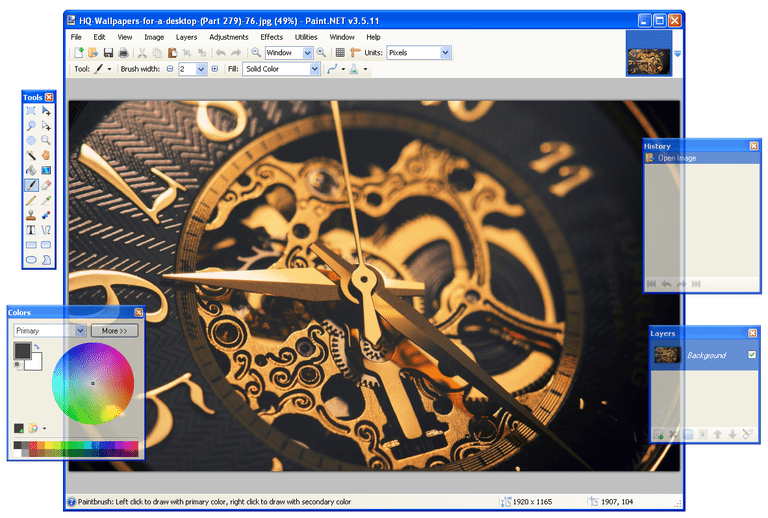 Similar to GIMP, Paint.NET provides the ability to move its window panes around to customize the interface to your liking. Paint.NET also provides plug-ins to support new file formats and add new effects.
Layers, effects, and a whole host of basic and advanced things like a clone stamp, pencil, text maker, and paint brush tool are included.
Around 10 image file formats like BMP, JPEG, TGA, and DDS are supported.
Paint.NET is for Windows computers only. More 
3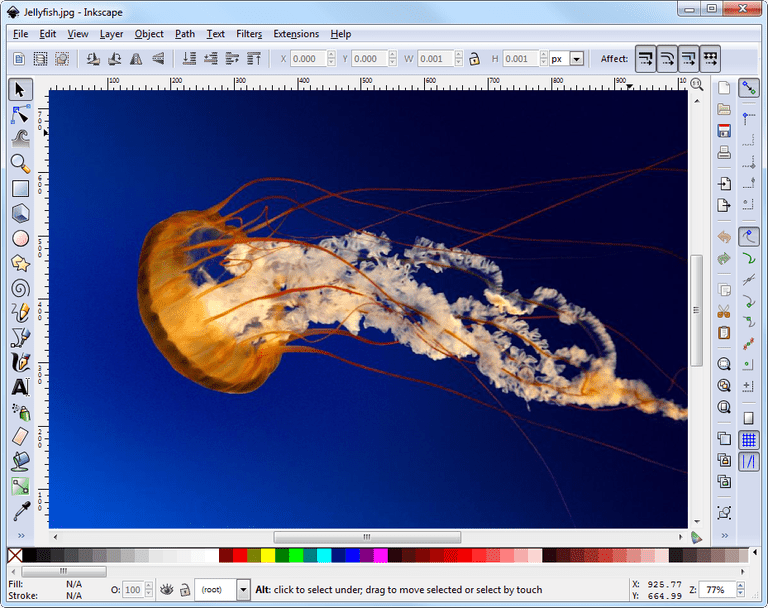 Inkscape works with Windows, Mac, and Linux operating systems.
The interface can be a bit cluttered but that's only evidence of the vast number of tools it includes. Nearly all the tools you'll be using often are planted along both sides of Inkscape for easy access.
Circles, arcs, 3D boxes, ellipses, stars, spirals, and polygons can be created using Inkscape. You can also draw straight or freehand lines.
Tons of file types are supported both when opening and saving. Among many other useful features, you can work layers, apply a huge number of filters to a picture, and use spell check along with the text tool.
Windows users can also download a portable version that consumes around 80 MB of space. More 
4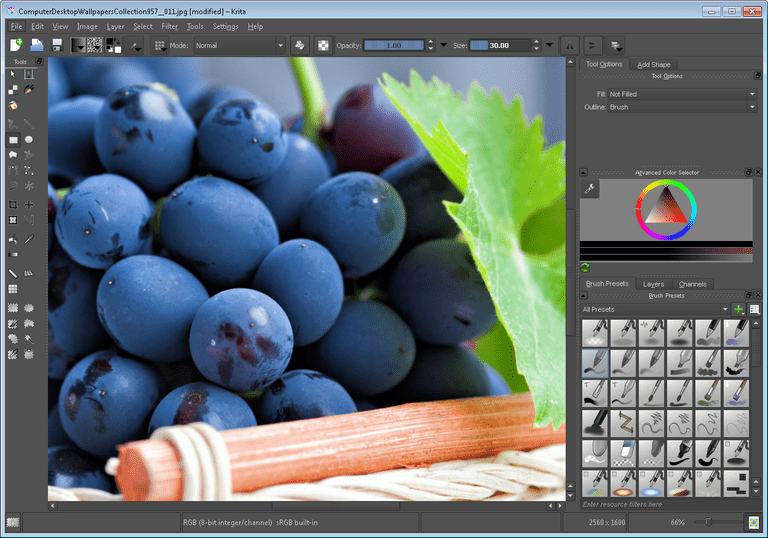 Krita Desktop is really easy to work with and is certainly an advanced image editor. Like some of these other programs, you can work with layers in addition to many other tools located in a floating toolbox off to the side of the program.
There are plenty of other features available as well, such as brushes and blending modes, advanced selection and masking tools, drawing aids, filters, symmetry tools, and effects.
One thing I like about Krita Desktop is that, with the press of one key (Tab), you can maximize the canvas to fit your entire screen, getting rid of all the menus and tools so you can have a huge space for working without any distractions.
Krita Desktop is over 100 MB in size and works with Windows, Linux, and Mac.
Note: The download page can be a little confusing to navigate. The more recent Windows versions of Krita Desktop are located at the very bottom of the page, with the 32-bit and 64-bit versions listed together. More 
5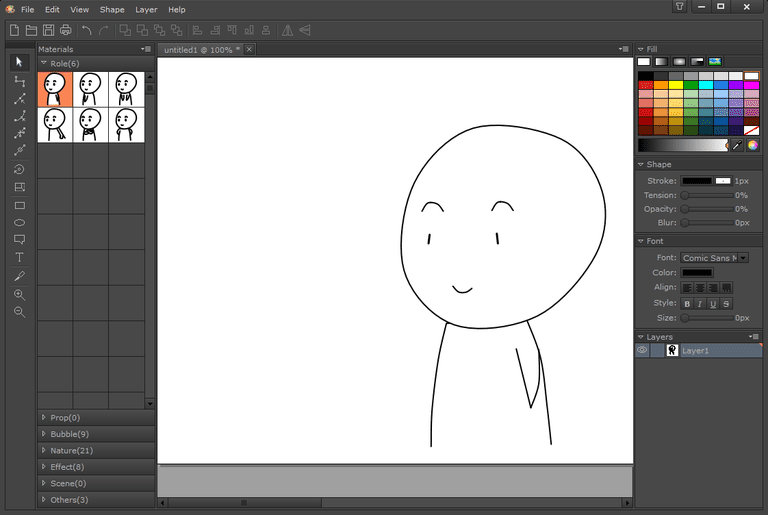 EasyComic isn't as advanced as some of these other free photo editors, but that can be a good thing if you're not wanting a program overflowing in features you won't ever use or need.
A handful of objects and effects are available such as speech bubbles, nature images, cartoon effects, and more that you can easily drag and drop onto the canvas along with your pictures.
Also available are line tools, rotate and resize functions, and the ability to create text and shapes. There is no brush or pencil tool like you'll see in many of the similar programs from this list.
Even though the program is simple to use and not heavy on features, it does support tabbed windows and simple layering so you can organize things better and move objects/pictures in front and behind of other ones.
One thing worth mentioning about EasyComic is that you'll get a description on how to use any of the tools if you hover your mouse over them, which is really helpful for beginners. More 
6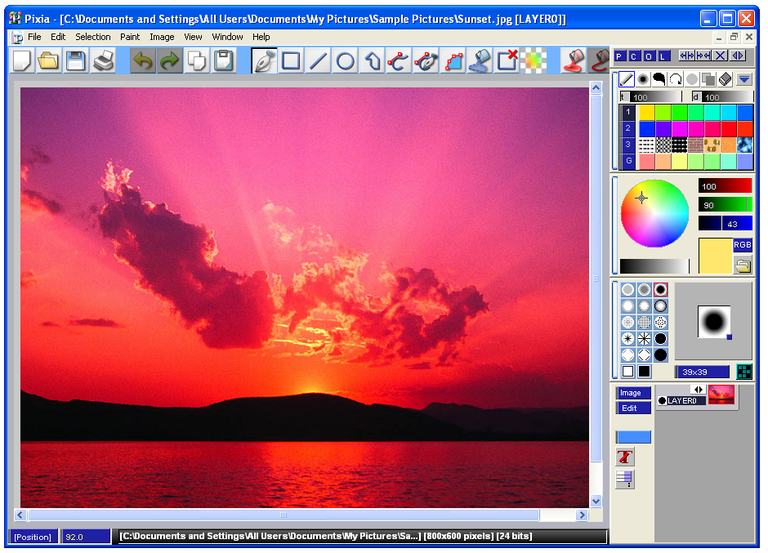 Pixia has an outdated and unappealing interface, but the functions and tools aren't at all undesirable for a free photo editor.
Layers and layer masks are supported, as well as creating shapes, selecting objects, and common photo editing tasks like changing the color adjustment and tone balance, color filling, and selecting from different paint brushes.
All the standard image file formats can be opened with Pixia including those with Photoshop's PSD extension. Images can even be opened directly from the clipboard, a camera, or a scanner. More 
7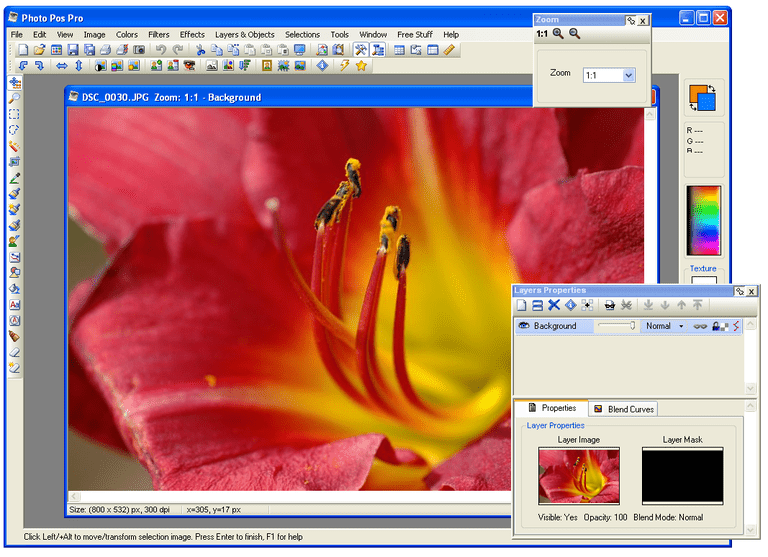 Every tool that's opened with Photo Pos Pro launches in its own pane that can be moved freely around the screen, which is real nice and similar to some of the other advanced image editors in this list.
Layers are supported and a nice feature with them is that instead of creating a new transparent or colored layer, you can even make one directly from an image file or style, such as a texture, pattern, or gradient.
Standard image and color manipulations can be performed on images as well as a number of effects. Photo Pos Pro can also add frames to images, among other things.
The setup file is nearly 50 MB in size, which may take awhile to download for some people. Also, the program took longer to install than most of the others in this list.
Note: The installer tries to add another program to your computer that you must decline if you don't want it installed. More 
8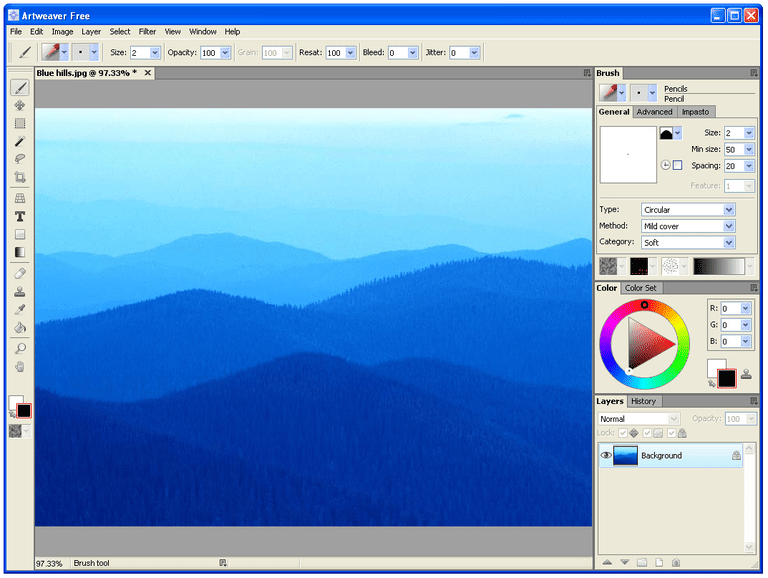 Artweaver manages to include tons of useful image editing tools in an easy to use program. It has a tabbed interface to avoid clutter, supports using pen tablets, and works with some of the most popular image file formats, such as JPEG and PSD.
Standard editing tools like a crop, text, paint bucket, and gradient tool, among others, are included, but Artweaver also lets you save and replay events, use brushes, create and work with layers, customize the layout of the palettes, and import images directly from a scanner or camera, among other things.
The screen mode can be changed from regular to fullscreen to have even more room to edit images. More 
9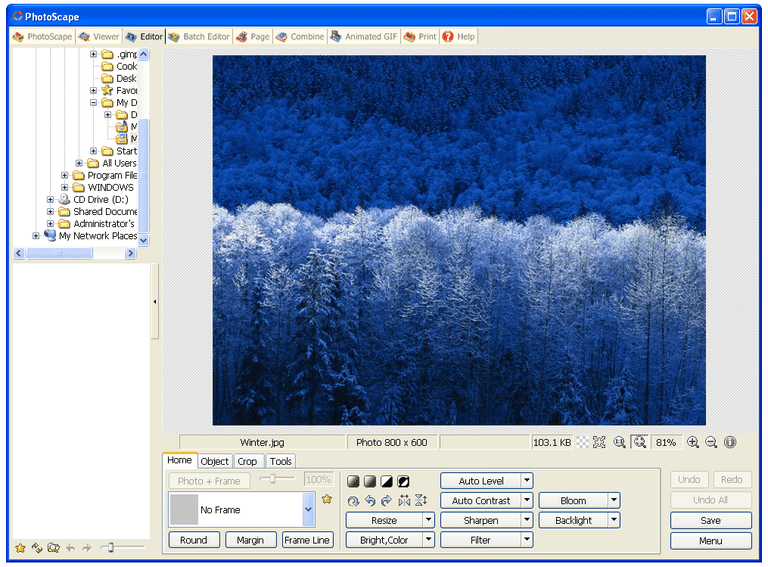 PhotoScape has several sections at the top of the program where you can open different tools to perform different actions. Viewer, Editor, Combine, and Animated GIFare just some of PhotoScape's sections.
The editing feature has dozens of frames to choose from, each with the option to round the corners and adjust the margin and frame line settings of the frame.
You can also add objects and text and crop an image freely or using one of several presets (e.g. 16:9, Legal Ratio & US business card ratio).
Some more tools included in PhotoScape is a red eye remover, clone stamp tool, spot remover, paint brush, and, among others, an effect brush (like grayscale, blur, darken, and brighten).
One thing I like about PhotoScape is that with each tool you select, a description of what it does and how to use it is displayed to the right, which is very helpful.
PhotoScape is available for Mac and Windows.
Note: Unfortunately, another program attempts to install during setup, but you can easily skip this by deselecting it. More 
10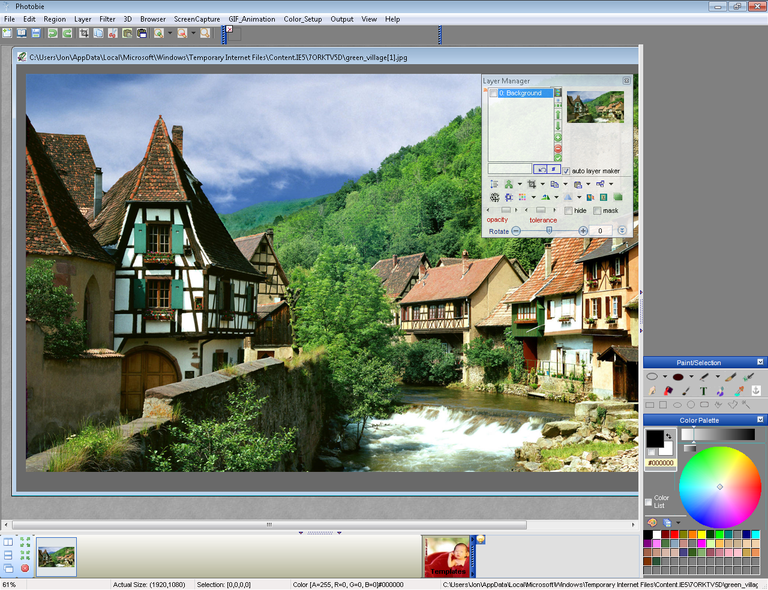 Another free photo editor similar to the others in this list is Photobie. One thing to note is that while there are plenty of common and basic features available, they seem a bit cluttered and difficult to find.
Some of the more prominent features in Photobie include a GIF creator, layer support, and the ability to create a 3D cube or globe using your image layers.
Also available are a handful of photo templates, which are pre-built pictures with transparent areas for inserting your own images in. You can also create your own templates and use them in the future.
Note: Photobie may try to install another program during setup, but it's easy to avoid it if you'd rather not include it. More 
11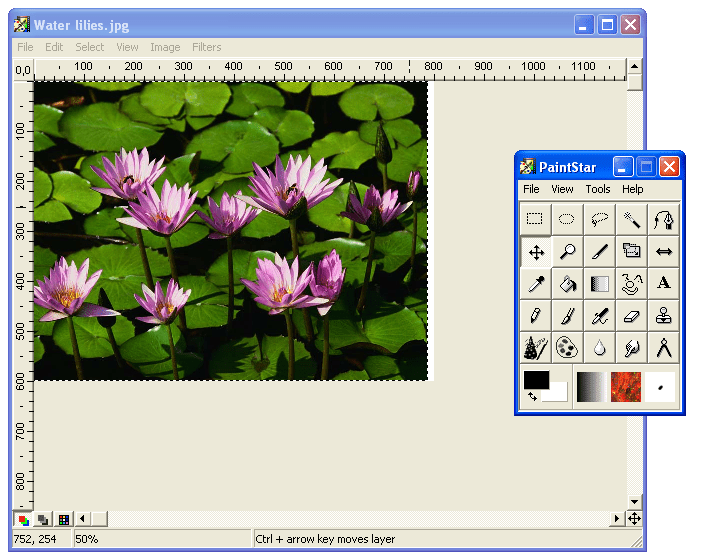 PaintStar is very lightweight – the program opens quickly and condenses its settings nicely, and the download is only a few megabytes in size.
All the tools you need are in their own dedicated windows, which means the canvas is open for editing only, providing lots of free space to work.
Layers, custom brush settings, filters, a clone stamp tool, and lots of other basic features are supported.
PaintStar lets you save your images in a number of popular, common formats, such as JPG, TIFF, PSD, PNG, GIF, and BMP. More 
12
CinePaint's interface is very mundane, colorless, and boring. But that doesn't mean the tools aren't useful because they are.
Layers are supported so you can overlay images on each other, change their blend mode, and edit their opacity.
You also get a selection tool with CinePaint, as well as a
The first thing you'll notice when you use CinePaint is that when you're opening a photo to edit, you're unable to preview it to know that you're selecting the correct one, which is too bad. More 
13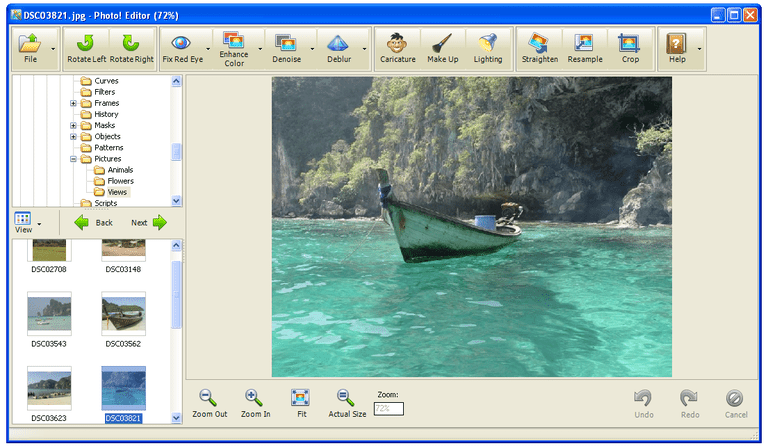 Photo! Editor is a simple image editor at first look. You won't find layer support or tons of features like with some of the programs from this list. However, there are still some very useful tools.
The menu is easy to use because there aren't a lot of buttons, though each item still contains its own set of tools and features.
You can fix red eye, apply 3D lighting effects, remove noise, enhance color, and deblur an image with Photo! Editor, among other things.
Specific make up tools are also made available, like a healing brush, teeth whitener, and smoothing brush.
Source: thebalance